Local Mapping Reports
The Diabetes Prevention and Control Program (DPCP) and the Directors of Health Promotion and Education (DHPE) worked together to provide specific area map reports to support diabetes prevention programming in Michigan. The DPCP and DHPE is a partnership made possible through the NACDD Diabetes State Prevention Project.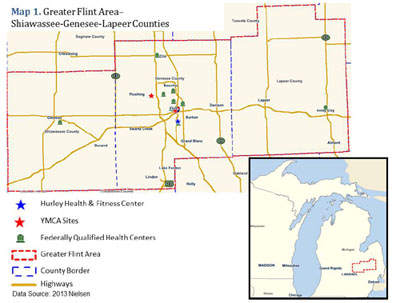 Local maps may be used by diabetes prevention programs and their partners to gain a better understanding of the community you serve, as well as high risk residents. Demographic maps are included in the reports, along with lifestyle and behavior information of community residents.
The reports also include locations of health care providers and health clinics. These reports were primarily designed to give marketing information about the community, and therefore have details such as—what people in the community buy, where they shop, and where they get information (such as radio, print, etc.).
The mapping reports included on this page have a wealth of information. However, if you wish to explore the detailed information referenced in the reports, please contact
Tamah Gustafson
.
Grand Rapids and Kent County
(December 2013)
Ingham, Eaton and Clinton Counties
(December 2013)
Ann Arbor and Washtenaw County
(December 2013)
Northwest Michigan 12 Counties
(December 2013)
District Health Department 10
(December 2013)
Oakland County
(September 2013)
Macomb County
(September 2013)
Upper Peninsula
(August 2013)
Wayne County, Detroit and Inkster Area Diabetes Prevention Mapping Report
(August 2013)
Flint Area Diabetes Prevention Mapping Report
(March 2013)
---