Michigan Diabetes Prevention Network
The Michigan Diabetes Prevention Network was created to support and engage partners in diabetes prevention and serve as a vehicle to share information and resources. These resources are intended to help you as you deliver your diabetes prevention programs.
If you want to share something from your organization with everyone, let us know. If you have suggestions for resources you would like us to share, let us know that too! For more information contact Tamah Gustafson at
gustafsont2@michigan.gov
.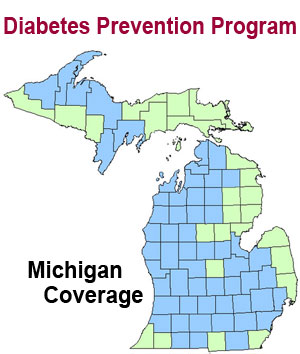 2017 Network Meeting Dates
Wednesday, March 22, 2017
Tuesday, July 25, 2017
Thursday, October 12, 2017
All meetings are scheduled from 1:00pm-4:00pm at the Michigan Public Health Institute Learning Center, 2436 Woodlake Circle #380, Okemos, MI 48864.
July 2016, Summer Network Meeting
March 2016, Spring Network Meeting
View Earlier Network Meeting Presentations
If you have any questions or to register for the Michigan Diabetes Prevention Network email Tamah Gustafson at
gustafsont2@michigan.gov
. Registering will ensure you have the most up-to-date network information including news, resources and meeting invitations.
Data Materials
Pending recognized organization partners can use the documents below:
Links
---